You may have seen some upgrades along the 15km Te Ara ō Wairākei stormwater reserve in Pāpāmoa this year.
The beautiful motif pictured below comes from original artwork by our whanaunga Linda Munn.
Boffa Miskell Ltd and Streetscape Ltd converted Linda's art into a graphic and engineering design that will be installed on the new signposts, public seating and interpretation panels (coming soon!) along the Te Ara ō Wairākei corridor.
---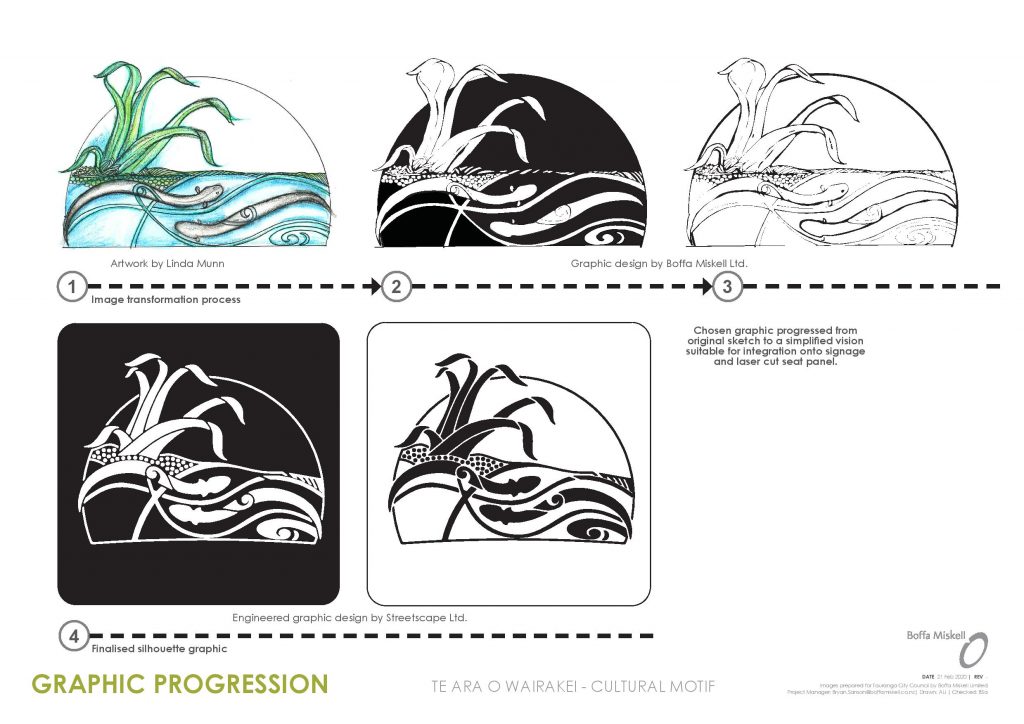 ---
Ngā Pōtiki would like to say a big thank you to all involved, including Tauranga City Council and other iwi and hapū members. It has been a long journey to this point, and it is great to see this project really coming together now.
We also support the work that is being done by the city council to preserve and enhance the natural environment.
The Wairākei Stream once flowed freely along this corridor and it has significant historic, cultural, spiritual and ecological value.
---
---
We view the Te Ara ō Wairākei initiative as an opportunity to preserve what remains of the once extensive Pāpāmoa wetlands and associated habitats that continue to disappear at a rapid rate as the result of rampant development.
Ngā Pōtiki's involvement represents a commitment to the health and enhancement of the natural environment, not just for our tribal beneficiaries, but for all residents of Pāpāmoa to enjoy.
---
---
The Te Ara ō Wairākei project will enable conditions conducive for wildlife native to the area such as tuna/eels, kōkopu, īnanga, mokomoko and pārera to re-establish themselves and flourish.
Ngā Pōtiki, therefore, supports the reintroduction of indigenous plant species such as harakeke that can support this process.
At the same time, we take the view that the remnants of the Wairākei Stream and its wider catchment are very much part of the surrounding cultural landscape comprising of the Pāpāmoa Hills, Mangatawa, forested areas, Kaiate Falls and waterways that are closely associated with our history and cultural worldview.
Ngā Pōtiki joins with other iwi and interest groups in supporting the Te Ara ō Wairākei initiative.
HOW YOU CAN HELP: Do you have any old photos of Pāpāmoa or the Wairākei Stream? We are looking for images to include on the new interpretation panels that will be installed along the Te Ara ō Wairākei corridor. Email your photos to: kiaora@ngapotiki.org.nz.